O.K....first off I am a total idiot when it comes to managing blog journal! I didn't realize some of you had been posting comments, but for some reason I managed to turn on a setting that required me to approve comments before they were posted. Anyways, I go to the page with about 8 comments from people that were waiting to be approved. Needless to say I have now turned that off and I think people should be able to post comments now by: 1.clicking on the white "comments" link, 2. writing comment, 3.retyping the carnival mirror word in the line below (anti-spam tool), 4. choosing if you want to post anonymous or not, 5. clicking on the "post" button.

Now for some photo's from the trip:

Palace of the Popes, Avignon

SCARY! Lyon gargoyles are always sticking their tongues out.
Sunrise out the window of my bedroom at Lyon Hostel.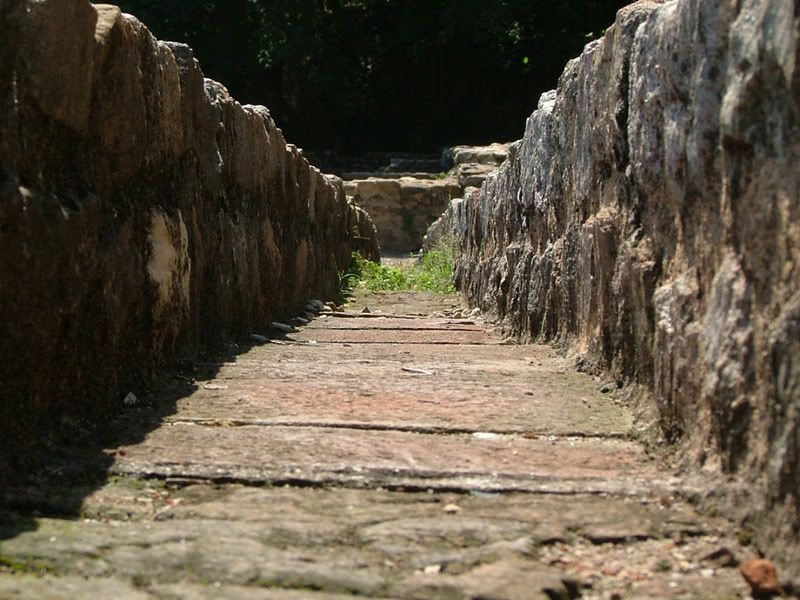 Water trough in Roman amphitheater ruins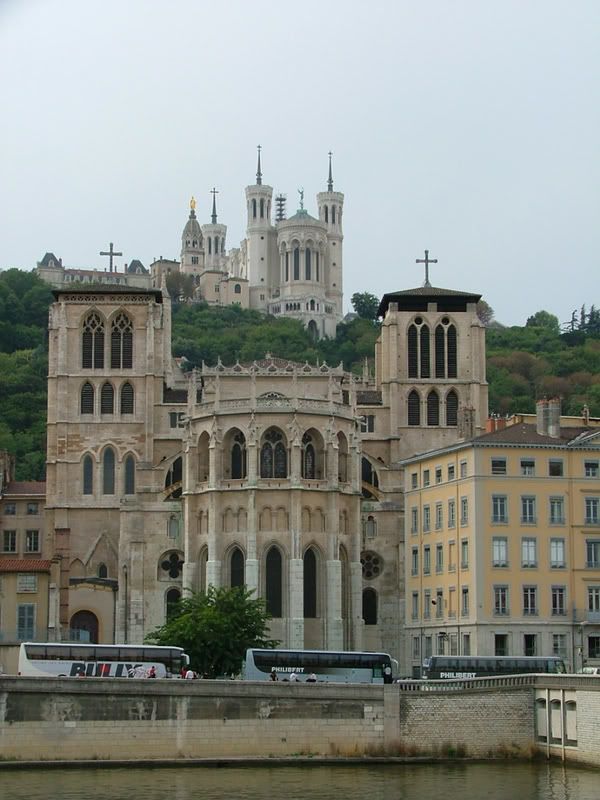 Hills of Lyon two cathedrals for the price of one.



So I had another cool experience when I was walking in the Parc De La Tete D'Or on the norther elbow of the Rhone in Lyon. There was an old building that looked like it might have been administration offices for the zoo there. An artist had a bunch of his work on display and was working on new stuff. From what I could tell,and am half assuming based on the living area I sneaked a peek at behind a curtain, is that he got to live in the space as part of an art grant. Seeing as how the Museum of Contemporary Art is Ont he other side of the park it's totally likely. Well one of the ideas he was working with was shaped derived from nature and applying those shapes to working sculpture that created space...potentially livable space. The idea of deriving new concepts about structural integrity from structures in nature is a new idea. It just isn't used enough in my opinion. Well when I started to talk to the artist and asked if he had extra copies of his 24 page book for sale he said no and acted as if he didn't speak english and referred me to his friend with him. I started to explain that I was a student in architecture and the forms he was investigating were very important to organic space conception. Then the artist jumped back in and started speaking to me again almost with a zen ease as if we both understood each other, but didn't want to be dorky about how excited he was that some understood. I could be wrong, as I said these are just my perceptions of the events. Finally, after showing me more about how the circular tube with interwoven sticks that could be shaped in numerous ways, he walked over to his work table and dug under his sketch book and pulled another copy of his book out and gave it to me. I asked if he would accept money for it, but he refused.



The Pitch... and other useful obstacles in children's games. On my way back to the Hostel to get my bags I stopped in this plaza outside an old theater. A few kids showed-up with a soccer ball escorted by one of their mother's and an older brother. The kids looked like they were about to play soccer on the wood planked plaza surface, as the smallest one was wearing goalie gloves. Well a heated game of Rocks, Paper, Scissors began, but took a form that appeared to be more like Ones, Twos, Threes, Fours, and Fives...I couldnt figure out how the winner was determined, but that person obviously was then out. Well I thought for surebased on the numbers they would play 3 on 3 witht he goalie being full-time, some sort of half-pitch soccer. Not the case, as I have quicly discovered being American in France. The older brother went and sat down, and confussion set in as they had to scramble to reasses the teams. So it was going to be 3 on 3 with 3 offense against 2 defense and the goalie. Of course the goal was the mouth of the narrow path crossing the water. and the penaly of missing your shot on goal would be having to go inteh water to retreve the ball. Well it must have been the goalies mom as he went over and begged to have his brother be allowed to play. Absolutly not! He was to big to play with the rest of them, but her motives were clear as she sat pouring hot tea into two cups handing one to teh older brother. She was probably at that stage where she had realized as most mothers do that her oldest son was going to be on his own in a few years and she had decided she was going to take advantage of those moments when she can to spend time with him. Rejected, the goalie returned to the group and suddenly the game became a little clearer. The boy who had lost Ones, Twos, Threes, Fours, and Fiveswas instructed to close his eyes and with that one of the others boys kicked the ball off to a far corner of the plaza and everyone except the loser scattered, hiding. Opening his eyes, the loser scanned for the ball fast and ran after it, bringing it back to the center of the plaza, leaving it there and started to hunt for the others as one kid taunted him in one direction another snuck out from the bushes behind him darting for the ball. The loser heard him on the wood planks and spun running for the ball two...You think carpet burn hurts?